Please see below a list of the most common questions asked. If you have any questions that are not answered by our FAQs, please contact us via email or call us on 01235 330131.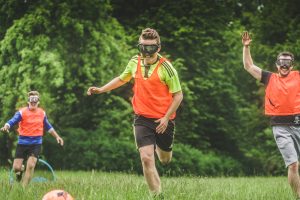 Who Can Play?
Participants – must be fit, healthy and not pregnant. If you have any pre-existing medical conditions should be checked with your doctor beforehand and should be declared well enough to play by a doctor beforehand.
Ages: 12 years old – 60 years old
Parental consent required for any participant under 16.
We do not recommend adults and children play in the same session together.
Participants must complete a brief health questionnaire before the game.
Spectators
It's also great fun to watch and unlimited numbers of family and friends are welcome to come along on the day, the more the merrier.
Event Questions
What destinations do you cover?
We cover all the major towns and cities in England, Wales, Scotland and Ireland.
We also cover Amsterdam, Berlin, Bratislava, Hamburg, Munich, Prague and more.
Please see our locations list for more information.
What is the minimum amount of players?
We require a minimum group size of 10.
However, groups of 8 can be accommodated at additional cost.
What is the cost of a Goggle Football event?
This varies depending on your location and group size.
Enquire today and we will send you a detailed quote based on your requirements.
What is included?
Your price per person will include pitch hire, a host, Goggle Football Equipment, Visual Impairment Goggles and an online event webpage.
Your online event webpage allows you to view your personal event details and have the option to pay on-line.
What is the format of your sessions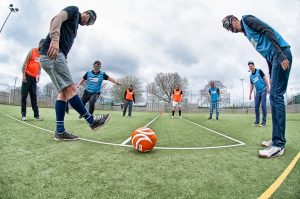 Depending on how many players you have and your chosen format, all events vary.
Timings are dependent on your group size. Groups 10 – 19 have 60 minute events, Groups 20+ have 90 minute events.
All events begin with a safety briefing and a run down of how the Goggle Football equipment works
Are your venues indoors or outdoors?
We operate with both outdoor and indoor venue's. If you specifically wish to play indoors please let us know and we will do our best to accommodate this. We mostly operate with outside venues.
What if the weather isn't good?
We operate on all weather 3G pitches and host events all year round in all weathers. All equipment is waterproof. Outside events may be cancelled in extreme conditions such as gale force winds, torrential rain or heavy snow.
Can groups drink alcohol whilst playing?
No, any groups found drinking alcohol whilst playing or intoxicated will be asked to sit out.
Booking Questions
How do I book?
We simply require a non-refundable deposit to book your event.
The remaining balance is due in one payment; this is due 21 days before your event.
All payments made within 14 days are non-refundable.
All payments MUST be complete, either online or via telephone.
We CANNOT accept payment on the day.
What if I don't know exact numbers when I need to book?
Exact numbers are required two weeks before your event when your final payment is due. Until then an estimate is fine, and can be increased or decreased.
Providing your group size meets the minimum group size requirement of 10 we can progress with your event.
Can each group member pay individually?
Yes, if you want group members to pay on-line individually to save the hassle of collecting the money yourself then just add £2 per person to your per person price.
What happens if I wish to move my event to a different date or time?
We will always try to accommodate any changes however this will incur a £10 amendment fee.
Please note there may be a charge for the cost of the arrangements if it is already paid for and is non-transferable.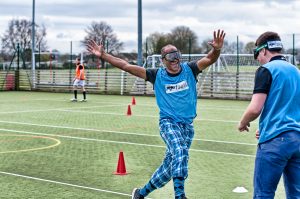 What happens if I wish to cancel my event?
Our cancellation period covers up until 21 days prior to your event.
At this stage you can cancel your event but you will lose your deposit.
Groups who cancel who have opted for individual payments will incur an admin charge of £5 per person when a refund is requested.
Any cancellations made within fourteen days of your event are non-refundable.
Terms and Conditions
To view our Terms and conditions page simply click this link.
Venue Questions
Can I book / provide my own venue?
Yes, we can travel to your venue.
We will need approximately 25m x 25m, access to power and the surface must be suitable for a sporting activity with no obstacles or uneven ground that could cause injury. The pitch hired must be either grass, astro, 3G/4G or all weather multi purpose. We cannot play on concrete or tennis courts. If you are playing indoors this must be a sports hall and we will need clearance from the sports centre to use the facility.
If you provide your own venue and we are unable to run your activity due to health and safety (above requirements not met) there will be no refund.
What is a 3G/4G pitch?
3G/4G pitches are the most significant and successful development in synthetic surface technology designed for football and rugby at both competitive and recreational levels.
In 3G turf, the pile (artificial grass 'blades') is supported by a thin base layer of sand, and by an infill of rubber crumb.
The pile height ranges from 40mm to 65mm depending on which primary sport is to be played on the surface.
Is there parking and changing facilities at my venue?
Most of our venues have shower and changing facilities that can be used before leaving your event, please ask us to confirm at time of booking.
Parking is venue dependent, and if required please inform us and we can look to accommodate this.